Why
The Neon Guild is an association of technology professionals in Charlottesville/Albemarle and beyond. Established in 1996, we currently have over 450 members.
Our meetings are very casual and friendly. Newcomers are always welcome. It's a great place to get info, help, ask questions and talk about what you do. Best place in town to get a tech job or hire a techie. Free pizza and beer, too.
With internet technologies changing at a dizzying pace, it's hard to keep up. Sometimes it's easier to simply ask someone about something you are trying to accomplish rather than poring through manuals, searching on the web, taking tutorials, etc. That's what the Neon Guild is all about.
It's also interesting to learn about what kinds of projects others are working on. The best thing about the Guild is forming relationships with others. If you know the other members and know what their skill sets are, often it's just easier to sub-contract out a piece of your job to someone else who can do it better or faster than you can. It works the other way around, too. Once other members get to know what you can do, they can forward projects your way.
As a community, we're also interested in helping others who want to explore this field. Many of our members do pro bono work, mentor high school kids, donate their equipment, teach, etc. If you're interested in participating, we can put you in contact with people who would love to use your skills.
When
Next meeting: THURSDAY February 18, 2016 8, 6-8pm.
Topic: Lego Serious Play
Facilitators: Joe Snyder and Joan Gammon
Certified as a LEGO Serious Play Facilitator, Joe is a seasoned IT Professional with broad, diverse experience in Project Management, Agile Coaching, and Training for organizations including Financial Services, Health Care, software development, and Government Agencies. He has a strong record of achieving outstanding strategic and tactical results in large and small enterprises across a wide spectrum of operational initiatives and functions. He is successful at building strong teams and facilitating consensus to bring order out of chaos and delivering predictable outcomes through developing and managing relationships. He has wide-ranging experience in enterprise transformation to adopt and implement agile methodologies.
Joan Gammon has been helping teams develop software since 1999. She has experience working with small start-ups to Fortune 500 companies in a range of industries. With expertise in Agile, Kanban, and Lean methods, Joan holds multiple certifications in Agile and waterfall, scaled Agile, coaching and facilitation, as well as being a certified Lego Serious Play Facilitator. She has helped organizations transform their waterfall teams to agile delivery teams, and assisted agile teams to move from good to great. Her passion is helping teams and individuals develop beyond "doing" Agile and move to "being" Agile. She has been actively involved in the Agile community since 2011 running the user group, Agile Richmond, and has been co-producer of the annual Innovate Virginia conference in Richmond, Va. since 2012.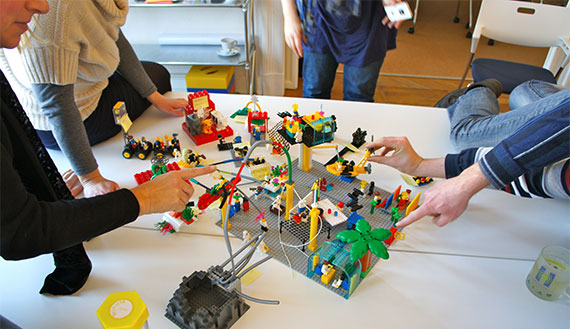 The LEGO® SERIOUS PLAY® methodology is an innovative process designed to enhance innovation and business performance. Based on research which shows that this kind of hands-on, minds-on learning produces a deeper, more meaningful understanding of the world and its possibilities, the LEGO® SERIOUS PLAY® methodology deepens the reflection process and supports an effective dialogue – for everyone in the organization. The LEGO® SERIOUS PLAY® methodology is an innovative, experimental process designed to enhance innovation and business performance.
(Yes, there will be Legos. Yes, we will be doing some serious play!)
Where
In the IX building at:
Studio IX
969 2nd St SE, Charlottesville, VA 22902
If you have a topic you'd like to hear about or one that you'd like to present, email .(JavaScript must be enabled to view this email address).
The List
Membership in the Neon Guild is free. No dues, no fees. No by-laws. No committees. Free pizza and beer and soft drinks at every meeting. We offer a fantastic resource for the tech community. We have only one rule.
If you want to get the benefits of our community, you have to give something. That something is YOU. In person. It's all about connecting with others. To join, you need to physically show up to at least one meeting. That's how you get on our super-secret private email list where a lot of action happens. We request that you attend in person at least once per quarter to stay on the list.
Just to make things perfectly clear, please don't write the Guildmaster requesting to be added to the list. She will write back to you and invite you to come to a meeting.